Draw a polygon shape by providing the outline (contour) of the shape. This includes convex or concave shapes. Self-intersecting shapes, however, are not supported and result in undefined behavior.
By default, the fill color is white (rgb 255, 255, 255). The default color can be changed using display.setDefault().
display.newPolygon( x, y, vertices )
display.newPolygon( parent, x, y, vertices )
GroupObject. Specify an optional display group in which to insert the polygon. By default, uses the current stage (as returned from display.getCurrentStage()) if no parent is specified.
Numbers. The location of the object relative to its parent.
Array. An array of x,y coordinates. These coordinates will automatically be re-centered about the center of the polygon.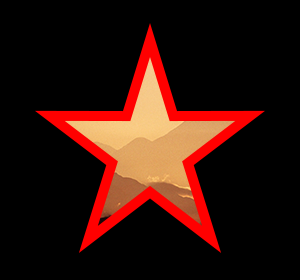 local

 

halfW

 

=

 

display

.

contentWidth

*

0.5

;




local

 

halfH

 

=

 

display

.

contentHeight

*

0.5

;





local

 

vertices

 

=

 

{

 

0

,

-

110

, 

27

,

-

35

, 

105

,

-

35

, 

43

,

16

, 

65

,

90

, 

0

,

45

, 

-

65

,

90

, 

-

43

,

15

, 

-

105

,

-

35

, 

-

27

,

-

35

, 

}





local

 

o

 

=

 

display

.

newPolygon

(

 

halfW

, 

halfH

, 

vertices

 

)




o

.

fill

 

=

 

{

 

type

=

"image"

, 

filename

=

"aquariumbackgroundIPhone.jpg"

 

}




o

.

strokeWidth

 

=

 

10




o

:setStrokeColor

(

 

0

, 

255

, 

255

 

)